AFA Product Safety News for Consumers, Retailers and Suppliers
The AFA places a strong emphasis on product safety. It actively supports Members' safety programs and promotes action across the industry to improve furniture safety.
We remind consumers to look for the Australian Furniture Association logo when purchasing furniture. The AFA receives numerous consumer enquiries on a daily basis and it makes it easier for us to assist if we can trace back to an AFA Member for support and action, both to protect the consumer and also assist our Members to be responsible and compliant suppliers.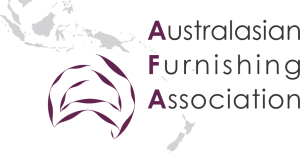 For more information contact the AFA via our contact us page.
Not a Member? Visit our Become a Member Page and sign up today!
ACCC
 When you buy goods or services and they break too easily, don't work or don't perform as generally expected, you have rights under the law.
The Australian Consumer Law (contained in a schedule to the Competition and Consumer Act 2010) creates a basic set of guarantees for consumers who acquire goods and services from Australian suppliers, importers or manufacturers. These are intended to ensure that you receive the goods or services that you have paid for. When you have a problem and one of the guarantees has not been met, you are entitled to a remedy.
The type of remedy depends on the circumstances but may include a repair, replacement, refund or having the service performed again.
Know your rights but remember that the law aims to give consumers and sellers a fair go—it is not designed to protect you if you are careless or make unreasonable demands.
The AFA is able to answer some of the questions most commonly asked by consumers, such as what rights you have when something you buy breaks or fails to perform as expected, and when you may be entitled to a refund or exchange.
The AFA can explain the law in simple language but is no substitute for the legislation or legal advice.
Need More Information?
Write to us at compliance@australianfurniture.org.au
Furniture Tip-Over Prevention
Toppling furniture can seriously injure young children.
The AFA has contributed to the development of the National Retail Association's Best practice guide for furniture and television tip-over prevention and is now working with Members and other suppliers to promote and implement best practice. Retailers are encouraged to stock AFA Member approved products. Consumers are encouraged to look for the AFA Logo when buying furniture which may be a toppling risk.
Illegal Logging Regulation
Please keep an eye on this section as more news will be posted soon.
Safety Standards
The AFA is an active contributor at Standards Australia in the development of product safety standards, including furniture stability, office and education workstations, chairs, desks and mandatory standards for cots and bunk beds. Standards exists for domestic and commercial use furniture.
Compliance with safety and quality standards helps avoid product recalls. AFA Members are supported in their compliance with standards.
To learn more about Australian Standards visit Standards Australia or contact the AFA via our contact us page.
Toxic Chemicals
There are concerns about azo dyes – which are linked to cancer – found in some imported leather upholstered furniture, such as lounges, dining chairs and bed headboards. And there has been an increase in the number of complaints from consumers about smell and or some physical reactions to furniture.
Reactions could include headaches, rashes or a whole range of things. It doesn't mean it's caused from azo dyes but it's worth checking for the health of your family.
Most leading Australian retailers will not sell furniture containing azo dyes, but buying from an international online retailer could present a bigger risk, as they may not be aware of Australian standards.
Is your product from a reputable compliant supplier? Find an AFA Member here.
Media Releases & Previous Work
Media Release: Are You Sitting on a Cancer-Causing Couch?
Media Release: ACCC investigates possible AZO dye risk
For more information contact the AFA via our contact us page.