Fifty Australians a week injured by toppling furniture and televisions. An estimated 2,600 Australians receive hospital treatment for injuries caused by toppling furniture and televisions each year, equating to approximately 50 people per week. Since 2001 at least 22...
The Australasian Furnishing Association (AFA) has announced the appointment of Parveen Akther, as Chair of the newly established AFA Regulatory Committee (AFARC). The AFA Regulatory Committee brings together likeminded member representatives, with specialist technical...
BFX is an Australian company designing, manufacturing and supplying Commercial and Education Furniture for over 30 years. We are looking for a Sales Consultant to join our dynamic team and encourage growth in the Commercial and Education Market. The successful person will be highly motivated with the ability to create opportunities, close sales and increase profitability. […]
Workspace Furniture is a national manufacturer and supplier of a quality range of systems and commercial furniture. We have a vacancy available within our Canberra Sales Team who due to progressive growth has become a significant commercial furniture supplier within the Canberra Marketplace. The successful applicant must have outstanding interpersonal and organisational skills and the ability to […]
Administration & Office Support, Client & Sales Administration BFX Furniture is a dynamic furniture retailer that specialises in the manufacture and sale of education and commercial furniture. We pride ourselves on excellent customer service and wish to continue this ethos by creating a new position, Client Relationship Officer (CRO), in our Administration Team. The position is […]
The Australasian Furnishing Association (AFA) is the peak industry organisation representing Australian and International Members spanning national and global markets.  The AFA contributes to worldwide consultation, collaboration and developments on behalf of all Members, particularly in the Australasian region. AFA Members benefit from the AFA's services in both residential and commercial environs and provides advocacy and lobbying leadership via government and industry led networks.
The AFA is committed to helping Member businesses with a focus on building competitive and sustainable business models and to promote the profitable growth, innovation, and success of its Members.
 AFA Members operate across all areas of the supply chain including education and training, design, manufacturing, supply of services and materials, installation, compliance, testing and certification, import and export of furniture, furnishings and components.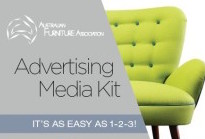 Advertise With Us
Advertise with the AFA and reach thousands of subscribers